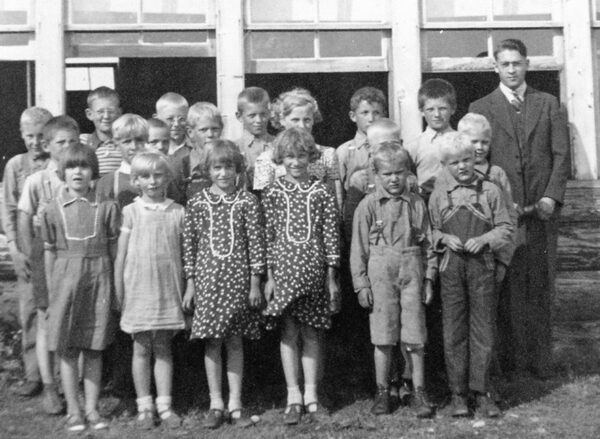 ---
By Gordon Phillips – Surrey, B.C.
After graduating from Vancouver Normal School, I wrote about 25 applications for a teaching position and received no answers. At that time in 1941, the military was looking for bodies, so my wife suggested leaving out my age.
The very next application sent brought in a telegram from Prince George. I had been appointed to Cranbrook Mills School. There was an annual salary of $840 and a house provided. I'd be teaching Grades 1 to 8.
I hustled to complete a confirmation reply. On Saturday of Labour Day weekend, my wife Bea and I were on the bus headed for Prince George. After a long trip, we arrived in Prince George at about 3 a.m.
We stayed on the bus until morning. We didn't know a soul, however, a friend gave us a phone number to contact. At noon on Sunday, a young lady picked us up and took us to her parents. The next day, I called the school inspector and asked how I was to get to the school, which was five miles away.
He had just been transferred there as well and wasn't very happy about it. He replied brusquely: "That's your problem. I've got my own!"
Gave rear a gentle poke
The folks where we spent Sunday and Monday said, "Don't worry, there'll be someone coming down the hill from that area." Sure enough, she spied a man with a horse team and wagon coming into town. We ran out to ask him to take us to the school. He had some shopping to do and at about 3:30 p.m., the three of us headed out.
Every now and again, one of the horses lagged and the driver gave it a gentle poke in the rear with a stick.
The driver could hardly speak English. Every time the horse got a poke, it leaped ahead and gave a violent jerk. Bea groaned and muttered, "All our nice dishes will be broken!"
The first of the trip was on a level sandy plain and after two or three miles, we started to climb up to a high plateau above Prince George. The country was heavily treed. After another two miles of climbing a road that twisted and turned, we arrived on level ground again.
We could see little clusters of log buildings and patches of cleared land here and there. As we headed towards the school, a man ran out from a house and handed us the keys to the school and the little log house beside it.
He couldn't speak English very well either, but managed to explain we could get eggs, butter, bread, and fresh water from a neighbour across the fence from the school. He told us there would be 23 kids in Grades 1 to 8 and all the people in the area were of German background.
A single cot for two
After unloading our gear in the tiny house, we made a fire in the stove and inspected our dwelling and its furniture. There was only a single cot with a very thin mattress for the 2 of us. A table, chairs, some cookware, a pail for fresh water, another for grey water, and some other basics rounded out the place.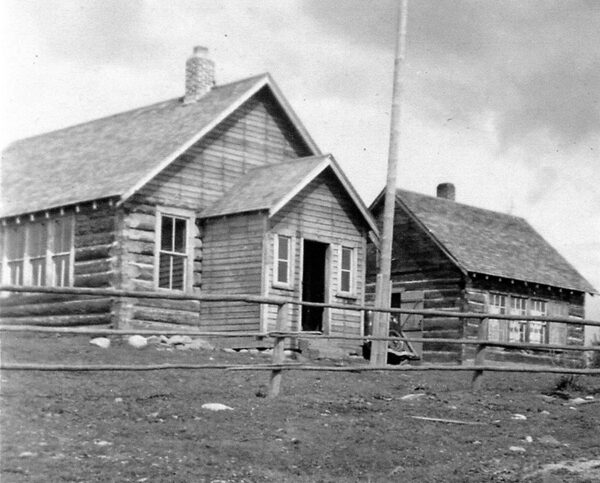 ---
I went to the neighbour's for eggs, butter, bread, and water. While Bea was busy getting things sorted out at the house, I opened the school for my first look.
As I stood at my desk and surveyed the situation I thought to myself: "Never in the history of education was a teacher so ill-prepared. Please help these little kids!"
The next morning, after a long night of twisting and turning, I was greeted by early arrivals who suggested ways to help.
Next door, Bea was busy talking to a kind neighbour. He was going to town and suggested she make up a list of groceries, including a 100-pound bag of flour, because, "There are no corner stores here." He added, "Don't worry about money. Mr. Williams will carry you until payday."
Can you imagine a pair of "prairie chickens" moving into a remote settlement of kindly German folk in a heavily wooded land? It was the best year of our lives and we came to love it!
The name Cranbrook Mills came from the mill owner's hometown. The mill was about three miles north of the settlement and most of the men worked there.