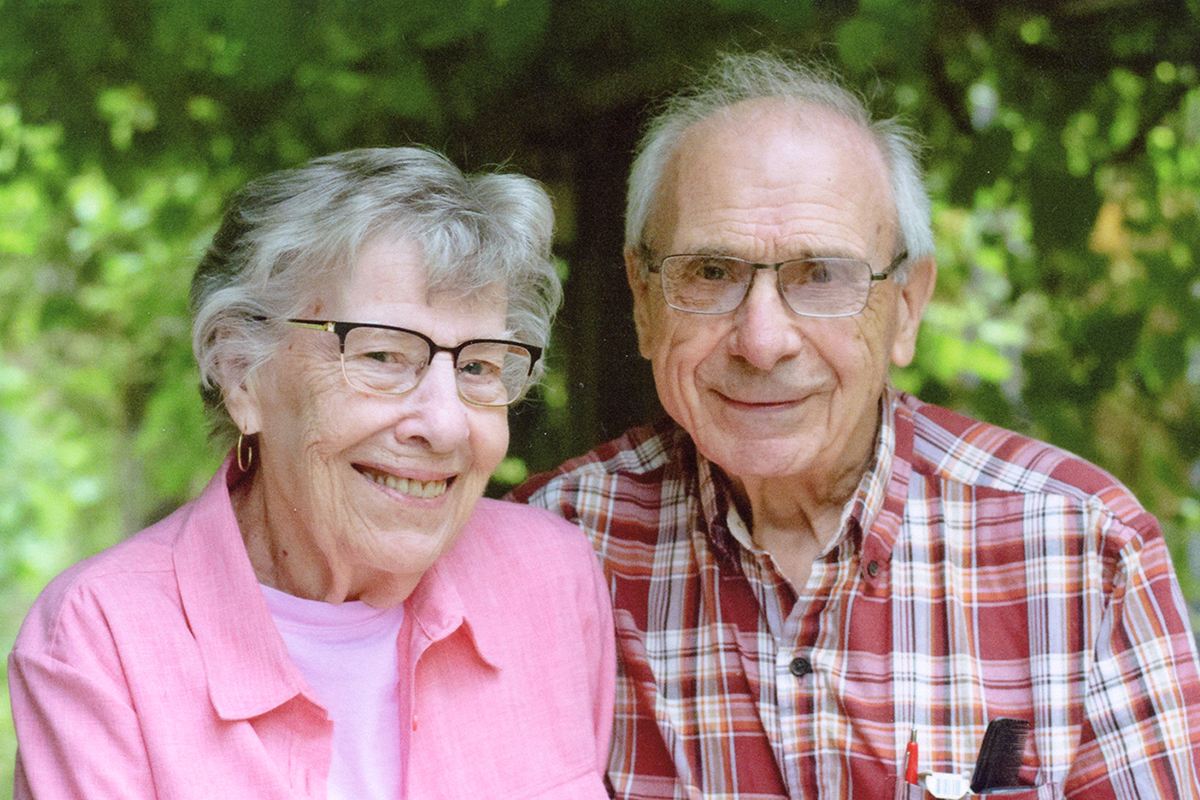 ---
By Shirley Farthing – Saskatoon, Sask.
In August, 2018, we celebrated our 36th month – or to most people it is three years. However, because of our advanced ages (Bob is 95 and I am almost 92), we cannot wait for a whole year to celebrate and believe it more rational to count the months. No matter what the tally is, we are celebrating a most loving and productive marriage.
Bob and I met in a seniors' home and engaged in a scandalous (to some!) whirlwind romance. We married in a church wedding two months later. And I say with great joy, "are living happily ever after."
We heartily recommend this rather innovative approach to the shadowy years of what some might describe as "old age."
I had lived in a seniors' home for a year thinking I had found a contented way of life until Bob moved in across the hall of my fourth-floor suite and was my new neighbour.
Many coincidences, similarities
I soon became aware that what I had thought was contentedness was only an empty shell for wasting away the remaining years left to me.
We discovered, to our amazement, the many coincidences in our lives including similar English heritages with our mothers both trained in piano and violin. For a part of our childhood we were living quite close, Bob on a farm near Fort Qu'Appelle, and me on a farm near Qu'Appelle, but actually only 10 miles apart.
Both of us, because of dire economic necessities, attended university in middle age, and of all things, we both began new careers in high schools in the fall term of 1972.
But that isn't all, we are parents of large families: Bob has seven children and I have eight. We were both widowed after lengthy first marriages, both our spouses suffering for many years with severe illnesses. Perhaps most importantly, we share in being devoted to our Catholic faith.
Slow elevator helped fast friends
With all these similarities as well as our shared impish sense of humour and other lesser coincidences, we were drawn to fast becoming true friends (one small, slow elevator helped!). It was a revelation that it did not take long to become an infinitely more intense loving relationship.
After our wedding, we moved to another seniors' community in its independent living section. Bob still drives which lets us travel and along with many short day-trips.
We've been fortunate to have gone on much longer excursions including Moose Jaw, Fort Qu'Appelle, a lengthy tour of southern Saskatchewan, and a couple of trips to Calgary. We'd spent a week in a resort in southern British Columbia, and more recently, a delightful weekend at The Pas, Manitoba for a family wedding.
Having a driving license is a unique luxury, especially when we have had the urge to go out late at night for a burger or an ice cream sundae. We know it won't last, but we will deal with it somehow whenever Bob must give up his license.
Besides going about in the car, we visit our local library six days a week to read and to photocopy a daily crossword puzzle – another shared delightful hobby to which we are addicted.
Once, when we told a priest all the coincidences and similarities in our lives with the comment that we were lucky to find each other, the priest replied quite fervently, "That was no coincidence or luck, it was prophetic!"
Maybe it was prophetic that we are together in our advancing years, and if so we are happily and lustily singing the lyrics to hundreds of old popular songs of the 1920s, '30s, and '40s – just another thing we enjoy together!