By Clive England – Creston, B.C.
In the winter of 1950-51, my brother, John, was seven years old and I was 12. We lived on a farm with our parents, Del and Hugo England, about 5 1⁄2 miles southwest of Dubuc, Sask.
John and I were attending Cotham School, which was about 3 1⁄2 miles southwest of our farm. Our transportation to school was with an open cutter sleigh and a lazy old horse named Bob.
On winter mornings, it seemed the wind was always blowing. Most mornings, it was blowing from the northwest. With a slow old horse, the trip was usually a long, cold one. Coming home, Bob was more energetic. He could sometimes be coaxed into a trot for short periods.
One day I was looking through the Army & Navy catalogue. I found military surplus gas masks and I hit upon a great idea. The price of the masks was $1.99 each. This made them affordable and they seemed to be an ideal solution to our cold faces when going to school. The clear plastic window would allow us to see and the mask would protect us from the cold wind.
Couldn't wait to try our new masks
After two or three weeks, the masks arrived and we could hardly wait to try them out. The first morning we put them on and went down to the barn to get Bob and hitch him up to the cutter. Bob didn't seem to notice anything out of the ordinary until we got out into the daylight and he saw the weird creature holding his halter.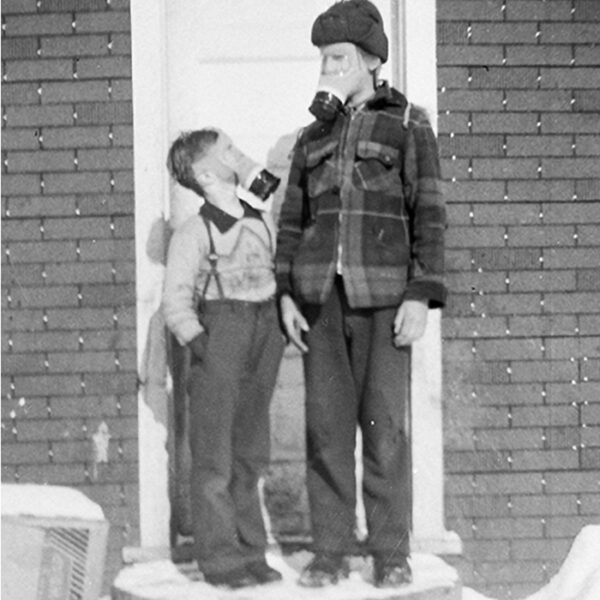 While John held the halter, I managed to get the cutter hooked up, then took the reins so John could jump in. Off we went at a speed that would normally be unimaginable. At first things really looked good. We looked forward to a fast and warm trip to school. That hope didn't last long.
After just a short distance, the plastic window was frosted up to the point where we couldn't see a thing. At first we had no reason to worry. Bob knew the way without any guidance.
It wasn't long, however, until water was running down our necks. The masks were starting to freeze to our face, so we had to remove them. By this time, our faces were wet and the cold wind was a real problem.
Bob was still trying to outrun the two apparitions in the cutter behind him, which only increased the windchill factor. Using our scarves, we were able to soak up a lot of the moisture. This probably was our coldest trip to school ever.
After a mile or so Bob began to tire, but I still believe we got to school in record time that day!