By Anne (Kurkowsky) Cohoon – Wilberforce, Ont.
My brother, Michael Kurkowsky, was a soldier. He was born on a farm north of the village of Hyas in east-central Saskatchewan, and attended Lake Helen School.
During the Depression, there wasn't any money to send young people away for a higher education. As well, children of farming families were needed to help on the farm because there were no modern machines that are available today.
You used forks, rakes, axes and shovels. Any machinery that used horses had to have a human driving them.
There were six children in our family. Michael was the second oldest. Our father died in 1936 so it was up to all of us to keep the farm going.
By 1940, Michael felt that there wasn't enough of a future for him on the farm. Paul, the eldest brother, was able to manage it with the rest of the family.
Farming wasn't for him
He left for Ontario to work in the tobacco fields, but decided that this life wasn't for him either, so he joined the army. He went overseas with the Essex Scottish Regiment.
By 1942, my sister Mary, step-sister Helen, and I were living in Toronto. He came to see us on his final leave in Canada. The last thing he said to us was, "When I'm over there pushing up daisies, make sure mother gets whatever I may have."
In 1944 I married Ken Cohoon, who was a pilot stationed in Brantford, Ont. We were living there when I received a letter from home. Mom had received a letter from an English couple with whom Michael had stayed. I thought that maybe he'd be bringing home an English war bride.
That same afternoon, I received a telegram from my brother, Paul, stating Michael had been killed on the beaches of Normandy on July 21, 1944.
Eventually mother did receive his belongings, as well as his medals. In that parcel were his gloves, covered in blood.
A heartbreaking sight
My husband and I were in Europe 42 years later. We flew from Vienna to Amsterdam. A car had been provided for us and we made our way back to Caen. It is the closest city to Brettville-Sur-Laize where Michael is buried.
Travelling along the French coast, it was heartbreaking to see all those cemeteries where thousands of youngsters are buried.
The saddest part for me was that the closer we got to Brettville the worse I felt. It was as if I had just been told that he had died.
The French were so deeply grateful to the Canadian Armed Forces that the land of the Brettville Cemetery was officially consecrated as Canadian soil, in perpetuity.
The cemetery is beautifully maintained – trees and flowers were in bloom everywhere.
Two French groundskeepers were busy cutting the grass and looking after the flowers. They very kindly helped us to plant the rosebush which we had brought with us. Michael, at 26 years of age, was one of the eldest buried there.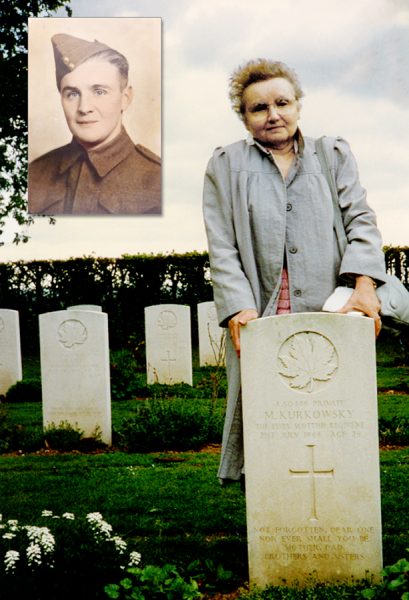 To see so many graves of 18, 19, and those in their early 20s was totally heartbreaking. This is just one of the countless cemeteries which dot Europe. Interesting enough to us, was to see how the Canadian cemeteries differ from those of other countries.
Great care taken
Each Canadian headstone is engraved with a large maple leaf, the individual's name, rank, serial number, regiment, date of death, a cross, and a personal family dedication.
Driving by other cemeteries, all that could be seen were row upon row of white crosses, but, all are very well looked after.
Brettville-Sur-Laize Cemetery is on the Fallaise road just a few kilometers west of Caen. Our next stop was in Lubic, Germany to see our son-in-law's relatives who live there.
They told us how lucky they were that the only damage during WWII in Lubic was done to a church.
Meeting those people made me feel that the only thing wars seem to do is cause destruction to countries and extreme sorrow to humanity. Why?
The government of Saskatchewan has acknowledged the deaths of the men from Saskatchewan, by naming lakes, rivers, and geographical sites in their honour. This is deeply appreciated.
Unfortunately, the sites are so far north, that I'm sure very few families are able to visit these personal landmarks.
To the present generation, our past is just a story, not a reality.
Bringing the bodies home from the present wars and having people come to Canada from war-torn countries, is making this generation realize how lucky we are to be living in Canada.
There has been an effort made to have ex-vets write their stories, however, of those who came back from the wars, very few are telling their stories.
If you can find any of those stories, do read them. They gave everything for us to live in a country that is free and welcoming to those who wish to make it their home.